Brace for Impact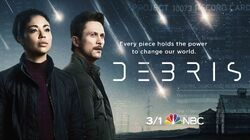 When wreckage from a destroyed alien spacecraft scatters across the Western Hemisphere, it soon becomes apparent the pieces are messing with the laws of physics, changing lives in ways we can't comprehend. Two agents from different continents, and different mindsets, are tasked with working together to recover the debris, whose mysteries humankind is not quite ready for.
Debris premiered on Monday, March 1, 2021 on NBC.
About Us
We are a community database on Debris created by fans, for fans. We are dedicated to building a comprehensive and informative resource about all things related to the NBC series.
We also have a place for getting to know each other and to talk about Debris in our Discussions. Whether you are here to start editing or to chat with fellow users, you are welcome to sign up for an account!